When:
09/09/2022 – 11/09/2022
all-day
2022-09-09T00:00:00+01:00
2022-09-12T00:00:00+01:00
Spectacular sea cliff climbing on slab rock with great protection. I'm organising this trip on my local patch in North Devon, where we have some of the best trad climbing on the most spectacular sea cliffs. There's also many beaches close by, so bring your wetsuits and surf boards.
ROUTES: from VD to E5
ROCK: Culm (compressed sandstone) with good protection
ACCESS: Abseil in after a 20 minute walk from the National Trust car park.
CAMPSITE:
Probably Freshwell Camping, Croyde Bay; we can firm up nearer the time.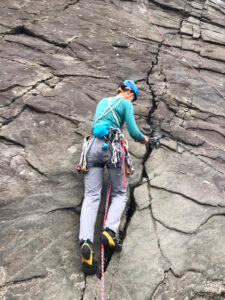 Organiser: Mandy
Members going:
Mandy
…