Sep
18
Wed
Lake District – Duddon valley
We're based in the Duddon valley, an idyllic backwater away from the crowds. I've booked bunks for us at High Moss Cottage (grid ref SD237966, a modern climbing hut with good facilities and with some great climbing within walking distance. Twenty minutes away is Wallowbarrow, of which Rockfax says: 'sits in a magnificent position…friendly grades…rock quality and protection are good'. Just over an hour away is Dow Crag, one of the classic Lakes big cliffs; the FRCC guidebook says: 'first class climbing…right across the grading spectrum…a superb setting'. There are also lots of other crags within a short drive. We stayed here in 2022 and 2023 and had a great time!
We'll be sharing the chores in the hut. I've booked six bunks; if it looks like there are going to be more of us, I'll see what I can arrange with the hut warden and I'll probably need a deposit.
Organiser: John H
Sign up on the Facebook event or email johnhorton(@)ntlworld.com
>
Oct
14
Mon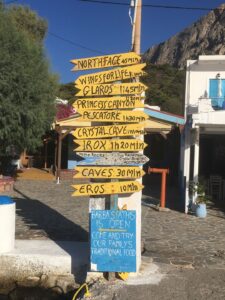 Here's where we will be staying. It's a really nice little hotel, slightly away from the busy main climbing hub of Massouri, but an easy walk to lots of nice restaurants.
I've booked six rooms, and the cost is €45 for single occupancy, or €60 if you are happy to share. Breakfast is included.
I'm bringing my non climbing partner with me – there's loads of active stuff to do on the island, or there's plenty of beach life and lovely cafes.
I think we may be able to get extra rooms on top of the ones I've booked, but obviously if you can get in early you'll be guaranteed somewhere to kip.
Sign up on the Facebook event or email: hannah.hetherington(@)hotmail.co.uk