When:
05/04/2021 – 26/04/2021
all-day
2021-04-05T00:00:00+01:00
2021-04-27T00:00:00+01:00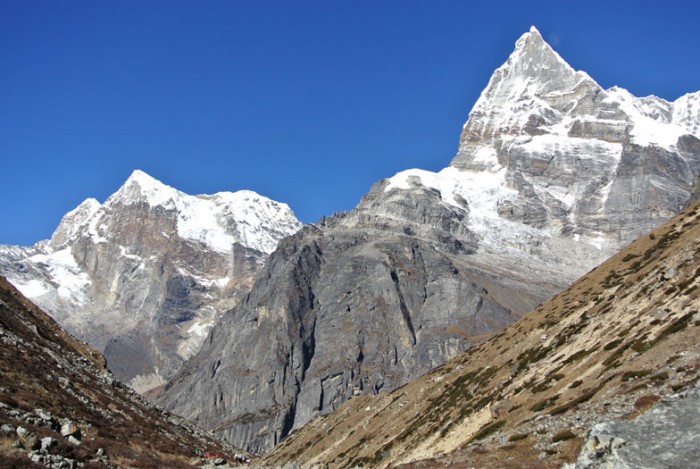 A fantastic opportunity for adventure amongst the highest mountains in the world! We'll be trekking (hiking and easy mountaineering) up Mera Peak, at 6,461m the highest Nepalese peak you can climb without an expedition permit. It's not difficult but it will be strenuous at times so you'll need to be fit, healthy and motivated to enjoy it.
We'll be camping on the trek. The days will start early, giving us time to relax in the afternoon when we've reached the day's destination. All our personal gear will be in our holdall (see below) and carried for us along with the camping equipment by porters; all we need to carry is a daysack with spare clothes and water – and a camera, of course!
We'll organise flights (probably via the middle east) to Kathmandu, where we'll be met by our guide and taken to a good quality hotel for two nights. It'll give us the chance to recover from the flights, and stock up on last-minute things from the dozens of trekking shops. We'll get a briefing from our guide and be given a large holdall to use for the trek.
Our itinerary in Nepal will be organised by an old friend of John Horton, who owns Mountain Mart Treks, which currently ranks number one of over 1,300 trekking companies in Kathmandu. He'll organise everything in Nepal: transport to and from the airport, accommodation in Kathmandu before and after the trek, internal flights, guide, porters, camping equipment, food on the trek, mountaineering equipment and permits.
Nepal is a beautiful country with some of the friendliest people you'll ever meet. The mountain scenery is spectacular and the remote farms and villages are fascinating. Kathmandu is a humming beehive of humanity, with people constantly on the move amongst markets, temples and shops.
Whet your appetite reading more details: https://www.mountainmarttreks.com/destinations/nepal/peak-climbing/mera-peak-climbing.html. We'll be staying an extra two nights in Kathmandu after the trek so we can do an included day tour of the city and to explore the lanes, courtyards and shops.
Family and friends accompanying RoCs members are welcome to join the trip without having to join the club. The total cost should be about £3100, made up of flights £700, organised itinerary £1800, everything else £600 (insurance, visa, meals in Kathmandu, tips…). It is a lot of money for a holiday but it'll definitely be unforgettable!
We want to organise flights in plenty of time so you'll need to commit by 31 July.
Organiser: Patrick (with lots of help from John H)
Definitely going:
Patrick
Matt
…