Meet Organiser – Pete Telling.
NOTE. DATE CHANGES 
The meet date will now be Thursday 1st July to Sunday 4th July
Apologies to everyone for the changes twice to the dates. Circumstances dictated this, and I realise it means that this meet follows on directly from the North Wales meet, and that may mean some of the members going to North Wales may not be able to attend this meet. We can always have another Peaks meet later on in the year.
If you have made an on line booking with the site, please post this so that I know who is booked in, and when you are arriving. I will travel with Patrick & Ro Thursday to Sunday unless Helen is going alone and wishes to share, then it will be Friday to Sunday.
This is an annual RoCs weekend meet to the delights of the Peak District National Park. We will be camping at the usual site near Hathersage at the North Lees (Peak District National Park) camp site. This is about 1 mile due North of Hathersage. This meet is suitable for all members as it is ideal for beginners and the more experienced climbers in the club. If you have never climbed outside on real rock, we can take you up some really easy nice rock. There is a wide choice of gritstone crags to choose from, some with a few multi pitch routes, but mainly all single pitch with a short walk in.
The campsite is a small friendly site with wash and shower facilities. It also has some wooden Pods if you prefer not to use a tent. All you will need for a Pod is a sleeping mat and bag plus your own cooking gear, just as you would for a tent. There is heating and lighting in the Pods. If you wish to use a Pod, or a Camper Van, please book this in advance yourself. A deposit may be required for a Pod booking.
To book a camping or camper van slot, you will need to go to the North Lees website here and book a pitch or a camper van slot on line, and pay for this yourself. I am unable to do the usual group booking this year as they want exact numbers and all money up front. If you are car sharing, then you can make one booking for all the people in your car group up to 5 and pay for all those people in on transaction, thus only paying for one car and however number of people in that group. If you are travelling alone you will need to book your own pitch and a car slot. If you do not book, there will not be any spaces as they are getting booked up now.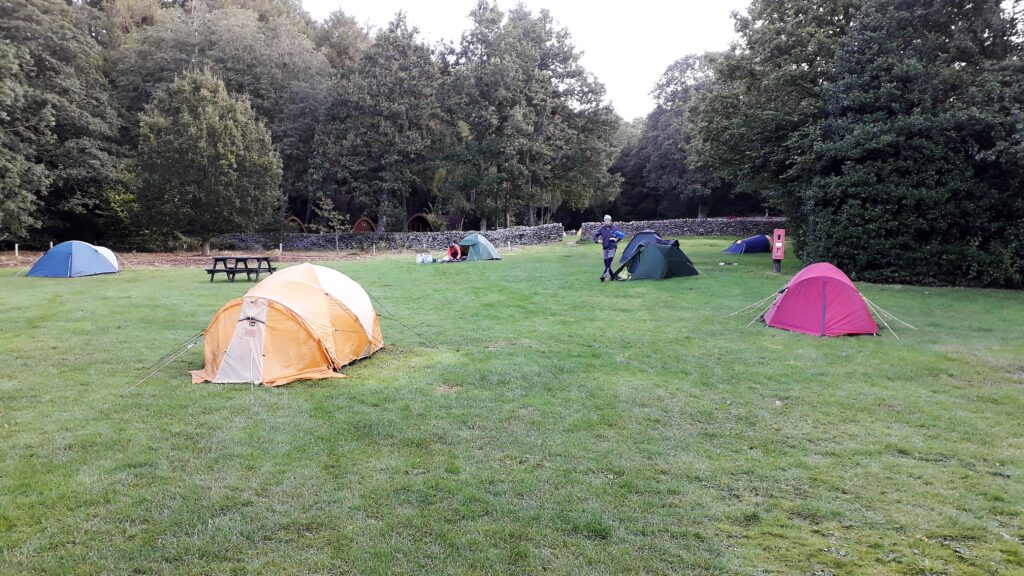 The contact details for the site are 01433 650838. To get to the campsite from Hathersage, go west on the A6187  Main Street and TR before the railway bridge up Jaggers Lane, then TR up Coggers Lane for about 1/2 mile, then TR into Birley Lane. After about 1/2 mile North Lees site  is on your left just before a left hand bend. There is a wooden gate (often closed) to enter the site. Ignore the "Campsite full" sign as we will have a booking for Romsey Climbers under my name. We will be car sharing as much as possible due to the limited parking spaces and to save fuel costs.
Hathersage has a couple of pubs, (although the Robin Hood pub in Hathersage is now not very good for food and atmosphere so we may need to travel further afield to the one we used last year), food shops and a few Outdoor gear shops so all you need for a weekend away with RoCs. If you prefer the luxury of a proper bed ????  then there are B&B's, hotels and Youth Hostels in and around Hathersage, but book early to ensure a room. Be aware if you choose to book accommodation and we have to cancel the meet at the last moment due to extreme bad weather, you may lose your deposit with your booking.
Bring along some wet weather walking gear as well, (waterproof coat, over trousers and walking boots) just in case the weather turns damp and we decide to go for a bit of a bog trot up on the hills. You will also need to bring along breakfast and any cooking gear required, food for mid-day lunch as there are no food facilities at the crags. We will be eating at a pub in the evenings if we can get in. If not we will be campsite cooking!
People going.
Pete Telling (Organiser) – camping Thursday – Sunday BOOKED
Patrick Manuel – camping Thursday – Sunday BOOKED
Ro Manuel – camping Thursday – Sunday BOOKED
Rachel – camping Thursday – Sunday BOOKED
Joshua Wright – Day trip Saturday