Meet Organiser – Pete Telling.
For this regular Dartmoor meet we will be staying at the usual "glamping value" site at Langstone Manor, Moortown PL19 9JZ about 2 miles east of Tavistock on the western edge of Dartmoor in the grounds of an old manor house. We have used this site for many years and we know the owners very well. The facilities are excellent with good showers, toilets and washing up, clothes washing and drying, as well as an on-site shop, bar, lounge and eating facilities. The owners are Jane and David.
The contact details for the site are 01822 613371 and the website is  https://www.langstonemanor.co.uk/
As well as camping, there are some wooden Pods with power and lighting for the less hardy climbers. You will still need to bring sleeping bag, mattress and cooking gear. If you wish to book a Pod, or plan to use a Camper Van, please do this yourself as I will only be booking camping places with Jane. There will probably be a deposit to be paid for a Pod, so book early to ensure a bed for the night. Be aware that if we have to cancel at the last minute due to bad weather you may lose your deposit on a Pod booking. Please let me know if you are camping or using a Pod or Camper Van so I know how many camping spaces to book.
We advise you also bring along wet weather walking gear in case the weather turns damp as there are many miles of Dartmoor to explore if we cannot climb. All that is required is a waterproof coat, over trousers, some walking boots and a small ruck sac for food etc.
Dartmoor is an ideal climbing area for members who have not climbed outside before. The climbing will be either at Dewerstone Rocks, Sheeps Tor or on any of the numerous Dartmoor outcrops (Hound Tor or Hay Tor for example) where there are many single and multi-pitch routes of all grades, from very easy to quite tough!! This meet is ideal for beginners and the more experienced climbers so if you are new to outside rock climbing it is an ideal meet for you. Make sure you bring suitable food and cooking gear for breakfast and also food for mid-day as there are no facilities near the climbing areas for food and drink. We will be using the bar or a pub for evening food and drink.
Anyone wishing to attend this meet can you please post on this page your intention, including when you plan to travel down, which nights you plan to stay and if you are camping, using a Camper Van or a Pod. We will be trying to car share as much as possible to save on fuel costs. We hope to negotiate a single person price per night of about £8 per night by sharing pitches. Jane has confirmed that we now have 6 pitches all near each other in the name of Romsey Climbers (for about 18 people). We will need to know the final camping numbers nearer the time to ensure there is enough spaces for all the members to be together. Do not leave this until the last week or so as they may be full very soon.
We have secured 6 camping pitches booked for about 18 small tents in the Daffodil Field (top right field).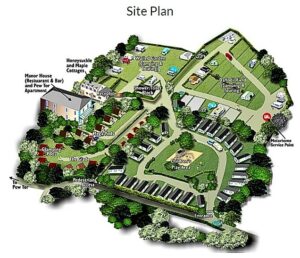 People attending so far.
Pete (organiser) – camping Friday to Sunday
Helen – camping Friday to Sunday
Patrick – camping Thursday – Sunday
Ivan- camping Thursday – Sunday
Ro – camping Thursday – Sunday
Hannah – camping Thursday – Sunday
Jon Gibbins – camping Thursday – Sunday
John Horton – camping Thursday – Sunday
Jim Kearn – camping Thursday – Sunday
Dave R – camping Thursday – Sunday
Kirsty Chapman – camping Friday – Sunday ?? TBC
Adam Nicklen – camping Thursday – Sunday
Mike Binns – camping Thursday – Sunday
Matt Lovesey – camping Thursday – Sunday
..
..
..
..
Camper van slots to be booked WITH THE CAMPSITE by individual members please. I have only booked camping slots.
Caron – Camper van (TBC)